Episode 171: JENNIFER MAYNARD Heal the Soil, Heal the People with Nutritional Game Changer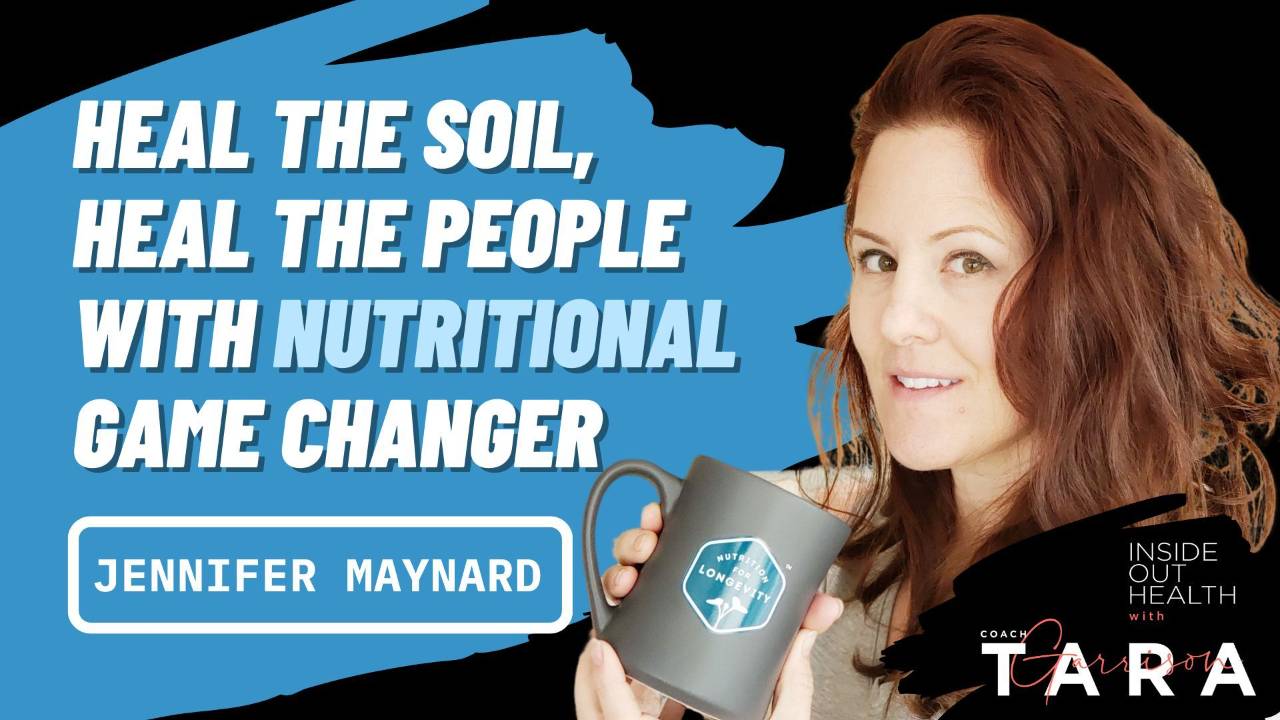 Jennifer Maynard is the CEO and co-founder of Nutrition for Longevity, a nutrition company focused on improved health span and disease prevention and management through Food as Medicine.
After a successful career and spending 20+ years in the Biotech and Pharmaceutical arena, she decided to shift pace and focus on Food as Medicine.
This was after her job took her on a journey to live 3 years in Germany and 3 years in Switzerland, to travel to many countries in Asia, Europe, Middle East, and Africa. More than anything she was struck by the complete contracts in the food systems she saw around the world, when compared to the US food model.
So, Jennifer decided the area of nutrition in the US needed more focus, more science backing, so she decided to take her science background and executive knowledge from Pharma and focus her efforts on bringing Food as Medicine to life in the US.
She met Dr. Valter Longo and appreciated the extensive research he had already done and continued to do in Longevity and Food as Medicine and she wanted to be involved in that science and bring it to life, and this was how Nutrition for Longevity was born.
Since N4Ls launch in Q4 2019 the company has grown to national coverage of their online meal delivery service and has launched into the medical reimbursement space for their meals, supporting over 36 medical indications with their Medically Tailored Meals from Cancer to Type 2 diabetes.
In this episode, Jennifer shares a wealth of knowledge on regenerative farming practices and optimal nutrition for longevity.
Learn more about Jennifer: http://www.nutritionforlongevity.com/
And check out her Prepared Whole Food Plant Forward Meals here: http://www.n4lhealth.com/
Use coupon code COACHTARA to get 10% off of your Prolon Fasting Kit here: https://prolonfast.com/products/gofast?rfsn=7364621.b127fe&utm_source=refersion&utm_medium=affiliate&utm_campaign=7364621.b127fe
IN THIS EPISODE YOU WILL DISCOVER:
00:01:58 - What Jennifer has learned about the difference in food from her travels around the world
00:03:55 - The environmental impact of growing food
00:14:22 - Issues with US agricultural practices
00:27:00 - Diversity of gut microbiome in the US
00:38:30 - Natural pesticides
00:48:00 - How Jennifer helps people figure out nutrition for longevity
🟧TRY COACH TARA APP FOR FREE:
🟧SELF GUIDED PROGRAM:
https://www.taragarrison.com/level-up
🟧INDIVIDUAL ONLINE COACHING:
https://www.taragarrison.com/work-with-me
🟧CHECK OUT HIGHER RETREATS:
https://www.taragarrison.com/retreat
🟧 SOCIAL MEDIA:
Instagram @coachtaragarrison: https://bit.ly/3yxK6CP
TikTok @coachtaragarrison: https://bit.ly/3q2yZxS
Facebook @coachtaragarrison: https://bit.ly/3oU6xz0
🟧 INSIDE OUT HEALTH PODCAST SPECIAL OFFERS:
☑️ Upgraded Formulas Hair Test Kit Special Offer: https://bit.ly/3ehSyuV
☑️ Upgraded Formulas Main Site & Get 15% OFF Everything with Coupon Code INSIDEOUT15: https://bit.ly/37HA4BE
☑️ Rep Provisions: Vote for the future of food with your dollar! And enjoy a 15% discount while you're at it with Coupon Code COACHTARA: https://bit.ly/3dD4ZSv
If you loved this episode, please leave a review!
Here's how to do it on Apple Podcasts:
Go to Inside Out Health Podcast page:

https://podcasts.apple.com/us/podcast/inside-out-health-with-coach-tara-garrison/id1468368093

Scroll down to the 'Ratings & Reviews' section. Tap 'Write a Review' (you may be prompted to log in with your Apple ID). Thank you!